Materials – The basis for new applications
It is our mission to deliver outstanding scientific-technological solutions in the field of crystalline materials and their production, pushing forward the commercialization and promoting new applications of these materials.
We support material, device and equipment manufacturers and their suppliers in the production and characterization of crystals, epitaxal layers and thin films. Our customers' benefits are novel products, reduced costs, higher yield, better material quality, and improved device reliability. For this purpose we develop and improve equipment, processing, modelling, and characterization techniques.
The materials and markets we address are mainly semiconductor crystals (Si, Ge, Diamond, SiC, GaN, AlN, GaAs, InP, CdTe), but we are also experienced with optical, laser and scintillator crystals. Furthermore, we explore novel battery materials.
Strategy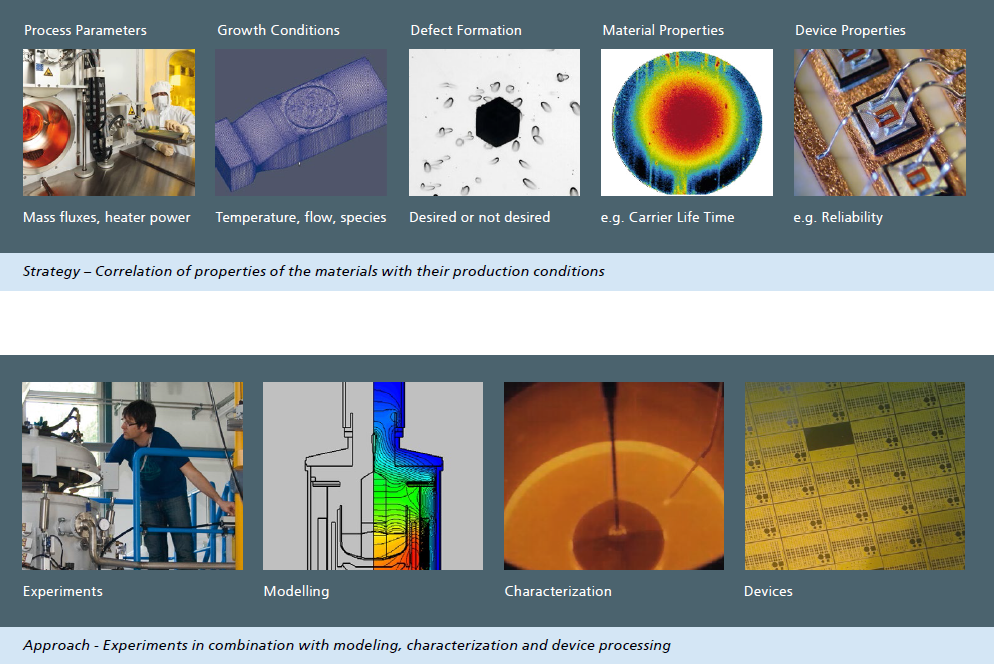 Our strategy is the optimization of the manufacturing processes through a combination of thorough experimental process analysis, tailored characterization techniques, and numerical modeling. For that purpose, we have a well-suited infrastructure at hand, which consists of R&D type furnaces and epitaxial reactors, state of the art metrology tools for the investigation of the physical, chemical, electrical, and structural material properties as well as powerful and user-friendly simulation programs. These programs are especially suitable for heat and mass transport calculations in high temperature equipment with complex geometry.